BeeShaper PRomo, još jedna sjajna kampanja koja poziva buduće Shapere da uz zabavu zarade.
– klik na pčelicu 😀
Dovljno je da se registrujete na BeeShaper, popunite anketu kojom ćete pokazati koja su to interesovanja vama bliskija od nekih drugih. Kasnije Vam BeeShaper šalje kampanju, a vi odlučujete da li želite da sa vašim prijateljima podelite informacije koje inače svakodnevno pratite.
Pridruži se ovoj kampanji SAMO ako ti se dopada i odgovara tvojim uobičajenim aktivnostima na internetu.
BeeShaper postiže odlične rezultate, Shaperi još bolje.
Pogledajte: infografika koja priča više od reči: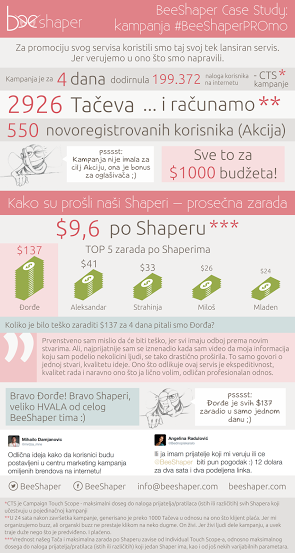 Još jedna važna stvar – svako od nas može biti deo TIMa! Nije važno koliko imate prijatelja na Fejsbuku, pratilaca na Tviteru… nije važno ni koliko dugo koristite neku mrežu; deo TIMa postajete tako što ste u prethodnom mesecu bili u top 10 Shaper-a po rezultatima u kampanjama kojima ste se pridružili. Dakle vredni Shaper-i odlučuju šta je vredno za sve nas ostale Shaper-e. E tako stvaramo nešto baš dobro za sve: za nas, za BeeShaper servis, za kompanije ali i za naše prijatelje koji nas godinama prate na društvenim mrežama i koji nam veruju.

p.s. članovi TIMa dobijaju i posebnu poklon zahvalnost od Pčelice baš svaki mesec. Jer nama je vredno da ste vredni i da nam pomažete da sačuvamo vrednost za celu zajednicu.
– preuzeto sa bloga BeeShaper, link
Ja sam zadovoljni Shaper, budi i ti.
Pridruži se ovoj kampanji SAMO ako ti se dopada i odgovara tvojim uobičajenim aktivnostima na internetu.
Ovaj blog post je sponzorisan ako ste vi saglasni sa tim. Vi odlučujete!
Svima su usta puna o tome kako zaraditi na internetu, ali retko ko i kaže kako se to radi. Evo konkretnog primera: kao zadovoljni Shaper, napisao sam ovaj blog post i na društvenim mrežama delim informacije o kampanji BeeShaper PRomo. Za to postoji odredjeni budzet namenjen meni. Ukoliko vam se svidi ova informacija, ukoliko se i vi uključiti u kampanju, predviđeni novac biće usmeren meni. Ovo je moj izbor. Uz zabavu do zarade.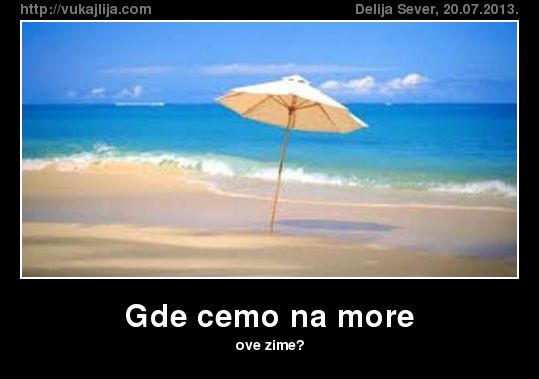 – fotka preuzeta sa vukajlija.com
Ako vam se ovaj blog post ne sviđa, vi ga podelite sa prijateljima i kritikujte mene po običaju, samo vas molim da stavite najveću moju sliku zbog onih koji samo slike gledaju, a ne čitaju.
Ako vam se ovaj blog post svidja, bas mi je drago.
#Ljubav, muzika i sve nešto lepo…