BIO-key SideTouch Fingerprint Reader
Windows Hello biometrija vam omogućava da se prijavite na uređaje, aplikacije, usluge na mreži i mreže pomoću lica, dužice oka ili otiska prsta.
U ovom slučaju, otiskom prsta pokreće se operativni sistem Windows 10 na sjajnom uređaju Lenovo ZOGA 910. Pogledajte kako to izgleda u samo desetak sekundi:
Lenovo YOGA 910 ima opciju Windows Hello BIO-key Side Touch Fingerprint Reader-a, iliti čitač otiska prstiju odmah ispod tastature.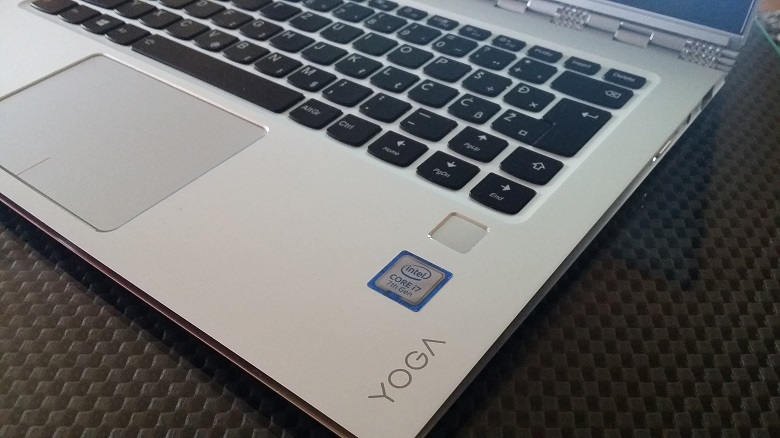 Ako računar na kome radite nema čitač, možete kupiti i koristiti eksterni čitač. Verujete, vrlo je bitan u zaštiti vaših podataka koje koristite na računaru. Da nije, ne bi ga ni ubacili kao jednu od zaštita, ne samo na računarima, već i u mobilnim prenosivim gadžetima, najčešće mobilnim smart telefonima i tabletima.
Realno, Lenovo Yoga 910 nije samo lap top, već i tablet dimanzija ekrana 13,9 inča, lako prenosiv, lako upotrebljiv na svakom mestu i najčešćii iybor digitalnih nomada. Potreba za čitačem otiska prstiju je razumljiva.
Kako podesiti ovu opciju:
Setings, Accounts, Sign – in options,
Windows Hello, fingerprint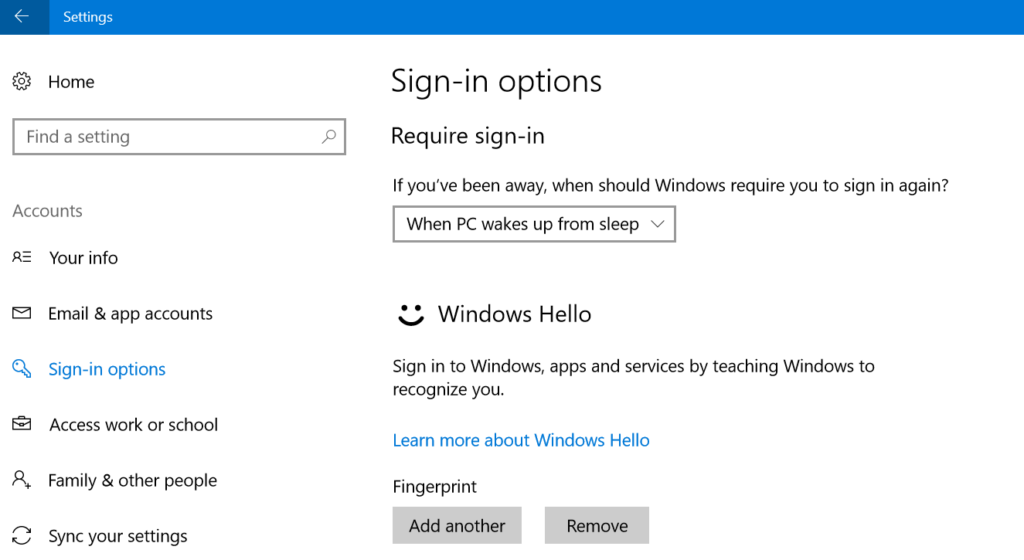 Možete ostaviti otisak više prstiju, ja sam kažiprsta i srednjeg desne ruke.
Svako pokretanje operativnog sistema Windows 10 na Lenovo YOGA 910 traje desetak sekundi, dovoljno je staviti prst na čitač i to je to. Bitno je naglasiti da je ova opcija vrlo bitna kod pokretanja određenih aplikacija ili foldera za koje želite da budu dostupne isključivo samo vama, ukoliko još neko ima pristup vašem uređaju.
Verujem da su vam ove smernice dovoljno jasne, ako ne, javite se u komentarima ispod blog posta ili na mom kanalu YouTube, rado ću odgovoriti.
Testiranje sjanih uređaja, u ovom slučaju Lenovo YOGA 910 je izazov i velika prilika da već sada planiram nabavku jednog koji će zadovoljiti sve moje potrebe.
Verujem da tekstovi iz kategorije Microsoft First League mogu uticati i na vaš izbor. Zadovoljstvo je biti deo ekipe Microsoft Super Fan-ova! #WinWithWindows