Svako malo neko u javnosti ili mog okruženja izadje i kaže:
"Potrošili smo x godina do završetka, a evo 20 godina do danas. Nismo uradili ništa ili vrlo malo, nismo ovo, nismo ono."
I sve je to tačno u okvirima percepcije, istine i činjenica, ali se ja opet okrećem svom utisku:
– za sve vreme unazad, učinili smo činjenjem ili nečinjenjem šta god, ali smo sve vreme živeli život kakav smo želeli.
Tu na snagu stupa naša percepcija, pojedinačne činjenice i sopstvena uloga u životu, kao i lični karakter.
Jer, kako drugačije shvatiti osobu koja lamentira nad svojim životom dvadeset godina, a ništa konkretno i dalje ne radi. Kako prihvatiti činjenicu da je život takvoj osobi proleteo pored glave, a da je nije dotakao ničim lepim? Kako prihvatiti sve politike i aktere u istoj? Kako prihvatiti činjenicu da smo se, ili nismo odmakli od osnovih postulata demokratije? Milion pitanja.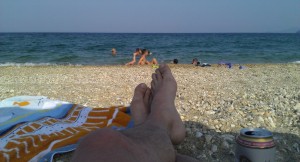 Sorry, ne prihvatam ove izraze, ovakva opravdanja, ovakvu istinu i činjenice. Ne prihvatam ni jedno pitanja ovog sveta.
Moje godine nisu "potrošene". Moje vreme je provedeno u "sve nesto lepo…" šta god to značilo.
A znači upravo to: živim svaki dan. Biram svoje prijatelje, svoje okruženje, biram toliko toga i ŽIVIM. Kako živim, živim, ali ne trošim vreme uludo.
Uživam u životu, u svakom danu, u svakom trenutku.
Svaki problem je jedan novi izazov. Svaki trenutak je prilika.
Hoću da ih koristim, a ne trošim. Hoću da se sećam svih lepih trenutaka i da težim istim ili boljim.
Da li vi živite, ili "trošite"?
Ljubav, muzika i sve nešto lepo…