Nema džabe
Dobio sam ponudu da nastavim svoje obrazovanje na globalnom nivou. Tačnije, da u periodu od 15 meseci, sa izdvojenih 40 dana van Srbije,  prođem program na 4 kontinenta i steknem dve diplome i neophodno znanje i iskustvo koje pružaju najveće svetske kompanije u Beču, Minesoti, Čileu, Brazilu, Kini, da se povežem sa poslovnim ljudima iz celog sveta.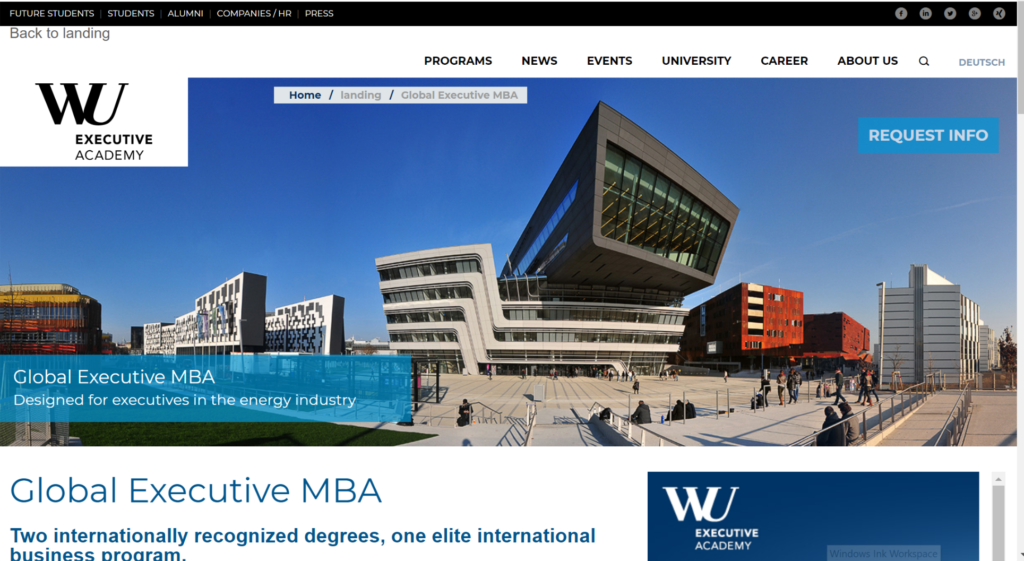 Potrebno je da apliciram za program. Uz direktni poziv vodećih ljudi sa Univerziteta u Beču, dobijam i direktni ulaz, imajući u vidu moje predhodno obrazovanje, iskustvo i reference koje sam do sada stekao.
The program is indeed global – as its name suggests – and its strong base of experienced participants has been recognized by the Financial Times.

Here's a quick overview of the program:
One course, 2 MBA degrees: You'll receive an MBA from the WU Vienna & the University of Minnesota

Gain a global perspective: Study in South America, Asia, the USA and Europe.

Study and progress in your career: Earn your MBA in just 40 days of class time

Learn from the best: Our faculty is carefully selected and consists of leading academics and business professionals

Proven quality: Ranked by the Financial Times and triple accredited
Obezbedim i potrebna sredstva za isto. Oni nude i apliciranje za obezbeđenje sredstava, na 4 moguća načina od kojih je jedan i iz ličnih sredstava, što meni odmah preostaje onih ostalih 3 načina.
Kada sam prošli put, 2010. godine tražio načine za finansiranje daljeg obrazovanja, ispao sam glup u društvu "jakih" privatnika, "velikih" direktora i sjajnih banaka u Srbiji. Toliko o tome, iskustvo koje me je nateralo da svaki način odbacim i vratim se na iznalaženje mogućnosti iz ličnih sredstava.
Ako uzmem u obzir da sada moj sin studira na osnovim studijama, i trenutno stanje, mislim da je ovaj blog post dovoljan da umesto depresije, okrenem igricu i smejem se samom sebi, nastavim komunikaciju sa liderima iz sveta biznisa na dosadašnji način. te odem na Borsko jezero i kopam i izbacujem kamenje iz voćnjaka.
Neke stvari ne vredi ni sanjati, a upoređivati se sa ljudima koji nemaju pijaću vodu i šta obući, tek je prilika za depresiju. Zato Deka uzima kramp u ruke i narednih desetak godina iskoristiće dostupnost Interneta, dobru volju za daljim usavršavanjem, prijatelje koji rade online edukaciju i elektronske biblioteke…
A posle? Nek je zdravlja, čovek se uči dok je živ.