Od ove godine, organizatori BlogOpen-a predvideli su, sproveli u delo i nagradili najbolje blogere u čak osam kategorija. Ako sam dobro shvatio, blogere su predlagali drugi blogeri i twiteraši, fejzbukaši i svi oni koji su imali info o tome a onda su oni blogovi koji su se najvise puta pojavili kao predloženi, našli na listi na strani BlogOpen nagrade. U odredjenom periodu, svi su imali mogučnost da glasaju za omiljene blogove sa liste.
Evo i pobednika po kategorijama:
1. Lični blog 2011.: Mahlat
2. Korporativni blog 2011.: Donesi.com 
3. Stručni blog 2011.: Moje Grne 
4. Blog-portal 2011.: Njuz.net  
5. Beba 2011.: Tetka.rs 
6. Najuticajniji blog 2011.: Istok Pavlović 
7. Foto blog 2011.: Hiishii photo blog 
8. Nagrada za poseban doprinos promociji bloga 2011.: Džepna venera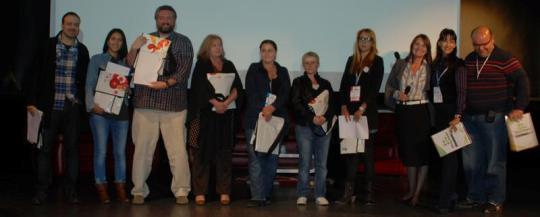 (sleva: Istok, Dadica umesto Verkic, Nikolic Njuz, Mahlat, Doneci.com, Gaga Grne, Hiishii, Mooshema, Gaga Djermanovic, Vidic)
Mene jako raduje što su me neki divni ljudi predložili i što je i moj blog ušao na listu i to u dve kategorije: 6-najuticajniji blog i u 8-nagrada za poseban doprinos promociji bloga 2011.
Hvala svima koji su glasali za moj blog.
Moram naglasiti da mi je izuzetna čast što sam bio nominovan i zato što sam bio na listi sa ostalim nagradjenim i nominovanim blogovima.
Verujem da je to veliki podstrek za moje dalje blogovanje, jer godinama na svim nekim listama moj blog se redovno pojavljuje. To mi jasno kazuje da postoji odredjeni kvalitet koji ljudi prepoznaju u mom blogovanju, u mojim postovima.
Presrećan sam zbog toga, kao i zbog činjenice da sam imao priliku da svim nagradjenim blogerima od srca čestitam posle proglašenja.
Pozivam sve da bloguju i da budu i sami deo ovog predivnog dogadjaja, jer samo na takav način mogu imati svest koliki značaj ima  BlogOpen! Biti deo blogerske zajednice je NEPROCENJIVO!!!
Ljubav, muzika i sve nešto lepo…