, veliki pad posete na blogu…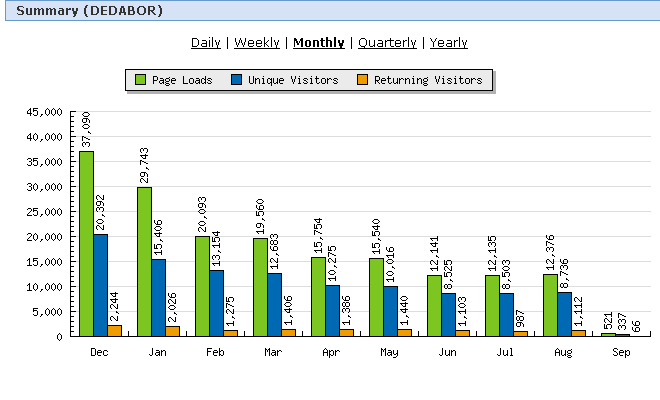 Ukoliko zelite da imate posecen blog morate imati kvalitetan i kvanitetan sadrzaj.
Na slici gore se jasno vidi za koliko je pad posete u periodu decembar 2009-septembar 2010. U ovom periodu sam imao mnogo privatnih obaveza.
Obaveze u realnom zivotu mi nisu dozvoljavale da budem azurniji. Svi postovi u ovom periodu nemaju nikavog kvaliteta, svi su neozbiljni i neobavezni i bili su tu samo da odrze neki kontinuitet u blogovanju.
Nadam se da cu u narednom periodu, a najranije od oktobra imati mnogo vise vremena i da cu se posvetiti mojem cedu kao ranije. Verujem da ce sadrzaj na ovom blogu biti kvalitetniji i da ce ponovo privuci veliki broj ljudi ?
Ja sam i sada prezadovoljan jer i pored moje neazurnosti, svakodnevna poseta nije bila ispod 250 jedinstvenih i jos par stotina po stranama…Desavalo se da postujem samo pet puta u toku meseca i to nekim video prilozima ili reklamama za neke proizvode…
Septembar je mesec kada se poseta uvek uveca i to prija svakom blogeru, pa i meni.
Ono sto meni prija je cinjnica da cu moci vise da se posvetim blogu i blogovanju, jer blogovanje nije samo moj blog, vec i gomila drugih izuzetnih blogava na koje nisam stizao u predhodnom periodu. Takodje, tu su i neki novi blogovi koji zavredjuju paznju i vreme…
Deda se vraca, penjem se polako u sedlo…. 😛
Ljubav, muzika i sve nesto lepo…