Predstavljena deveta generacija legendarnog modela Civic
 29.2.2012. – Danas je, u salonu Delta Automoto Honda, povodom lansiranja novog modela Honde Civic, održana konferencija za novinare. Prodaja počinje već sutra, 1.3., a model će biti dostupan sa 1.4 i 1.8 i-VTEC benzinskim motorima i 2.2 i-DTEC dizel motorom.
 Aleksandra Nikolić, direktor Honde: "S obzirom na to da je prethodna, osma generacija modela Civic, svojim revolucionarnim nastupom postavila izuzetno visoke kriterijume u dizajnu i inovacijama, Hondini inženjeri i dizajneri nisu imali mnogo izbora pred sobom. Definisali su kratko i jasno cilj – da naprave Civic najbolji do sada. Sa svime što donosi, a posebno izdvajam bogate nivo opreme, ovaj model će biti izuzetno konkurentan i vrlo smelo će ući na domaće tržište.
 Civic će u Srbiji imati najpovoljniju cenu u Evropi, već od 14.990 EUR." Za kupce novog modela obezbeđeni su i specijalni paketi finansiranja uz mesečnu ratu od 177 EUR (NKS 5,60%, EKS 8,19%, na 60 meseci).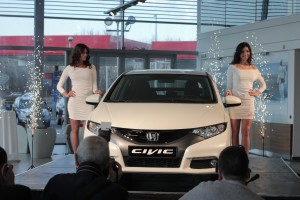 klik na sliku za uvećanje… 
Novi Civic, i dalje veran sportskom i futurističkom dizajnu i karakteristikama, unapređen je u gotovo svim segmentima. Izmene na dizajnu dovele su do značajnog povećanja aerodinamike automobila, do smanjenja koeficijenta otpora vazduha koji je sada najniži u klasi (0.27) i do smanjenja potrošnje goriva (5.5 l/100km za 1.4 i-VTEC motor).
Velika pažnja posvećena je i inteligentnim rešenjima koja povećavaju funkcionalnost prostora, a zahvaljujući izmeštanju rezervoara i "Magičnim sedištima", novi Civic je model sa najvećom prostranošću kabine i prtljažnim prostorom nenadmašivim u C segmentu, od čak 470 l.
Napredna i u potpunosti inovativna tehnološka rešenja predstavljaju jedan od ključnih aspekata ovog modela.
Bezbednosni sistemi CMBS (Sistem za umanjenje posledica sudara), ACC (Adaptivna kontrola kretanja) i HSS (Sistem kontrole dugih svetala), koji su do sada bili rezervisani samo za vozila viših klasa, prvi put su ugrađeni u model C segmenta zbog čega je novi Civic ocenjen sa maksimalnih 5 Euro NCAP zvezdica za bezbednost. Euro NCAP je ovaj novi model nagradio i specijalnom Advanced NCAP nagradom za inovacije u bezbednosti.
*******************
Honda ima proverene motore i uvek zna da nas iznenadi detaljima koji jednostavno ostavljaju bez daha.
Tako sam i ja ostao bez daha, prvo prezentacijom a zatim i pojedinim detaljima koji MNOGO znaće svakom vozaču. Uživanje u ovom modelu daje nekoliko "sitnica" : ako ne pogledate u obrtomer, nema šanse da kapirate da li motor radi ili ne. Toliko je tih da je to za moje zivce izazov i mogučnost da čujem sopstvene misli…
Potrošnja je mala i poskupljenja goriva nas ne dotiču ( osim ako ne vozite MNOGO kilometara kao ja). LOL
O ostalim detaljima možda ču vam ispričati kada budem imao prilike da malo duže vozim ovaj model. Slike, video priloge i ostalo tada.
A do tada, ljubav, muzika i sve nešto lepo…