Reading Time:
2
minutes
Mislio sam da Draganu Djermanović poznaju svi koji su na internetu, ali sam se prevario. Gagu ne znaju ovi koji su se skoro uključili na net i koji tek sada upoznaju sve čari i mogučnosti koriščenja društvenih mreža, blogova i svih online servisa.
Svi mi koji znamo Gagu, povezujemo je sa potencijalom bez granica u svim sferama a ponajviše u znanju, umenju i nesebičnom deljenjem istog.
Dragana Djemranović je srpski sinonim za stručnost u oblasti PR-a, online pr-a, komunikacija i još mnogo toga što je izdvaja u gomili poznatih…Najbolje da pogledate njenu ličnu stranicu: Dragana Djermanović/o meni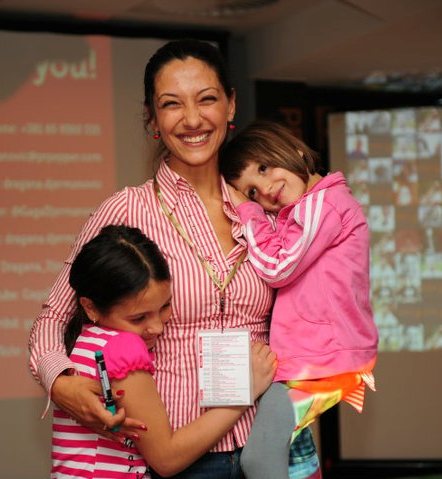 Gaga je sa zadovoljstvom odgovorila na nekoliko pitanja za Dedabor.com, pa želim to sa svima vama da podelim:
Pitanja za intervju   www.DedaBor.com

Molim Vas da se u nekoliko rečenica predstavite na samo Vaš način, baš onako kako Vi sebe videte?

Nedovršenom. Sebe vidim kao ni izbliza dovršenu osobu. U nekim sam se sferma života poptuno ostvarila, ali toliko još toga moram da naučim. Pre svega kao čovek. Posao onda uspešno prati dobar lični razvoj.

Da li ste svesni da svojim radom utičete na živote mnogih ljudi?

U oblasti kojom se bavim, bez lažne skromnosti, svesna sam da stvari koje radim i govorim ostavljaju utisak na ljude sa kojima sam povezana. Iako je to veoma teško izmeriti, nadam se da češće utičem kao pozitivan primer. Ako uticaj definišemo kao inspirisanje drugih, čini mi se da u tome često uspem. To je zato što i drugi inspirišu mene.

Na koji način bi ste vi voleli da utičete na druge?

Kada bi drugi u meni kao majci, intelektualki i preduzetnici videli dobar primer i potvrdu za svoje lične napore – jako bih bila srećna. Potvrđujem da jedno ne isključuje drugo, da jedno drugo dopunjuje i da je, gde god da jesmo, uspeh izbor pojedinca.

Šta je za Vas "sve nešto lepo…"?

Porodica. Naša vikendica na Fruškoj gori. Dečije priredbe i porodični praznici. Moja majka, brat i sestra i njihove porodice. Moji prijatelji, saradnici, učenici i mentori. Sinergija među ljudima. Proleće; prvi i drugi i svaki sledeći dan proleća i svaki dan godine koji započnemo sa osmehom na licu. Nešto jako lepo je i kada bloger koji je pročitao moj prvi blog post, ohrabrio me i podržao na samom početku poželi moje mišljenje na lepe životne teme. Sve je nešto i sve je lepo, ako na to lepo pogledamo.

Hvaka ti Deko
Draganu možete pratiti preko Twittera: @GagaDjermanovic 
Jako sam srećan što poznajem Gagu! Količina energije koju poseduje nije merljiva pa ne umem da je opišem rečima, zato svima preporučujem da budu makar na kratko u njenom prisustvu.
Gago, super si i tnx za ovaj intervju.
Ljubav, muzika i sve nešto lepo…
… pratite @DedaBor na Twitteru