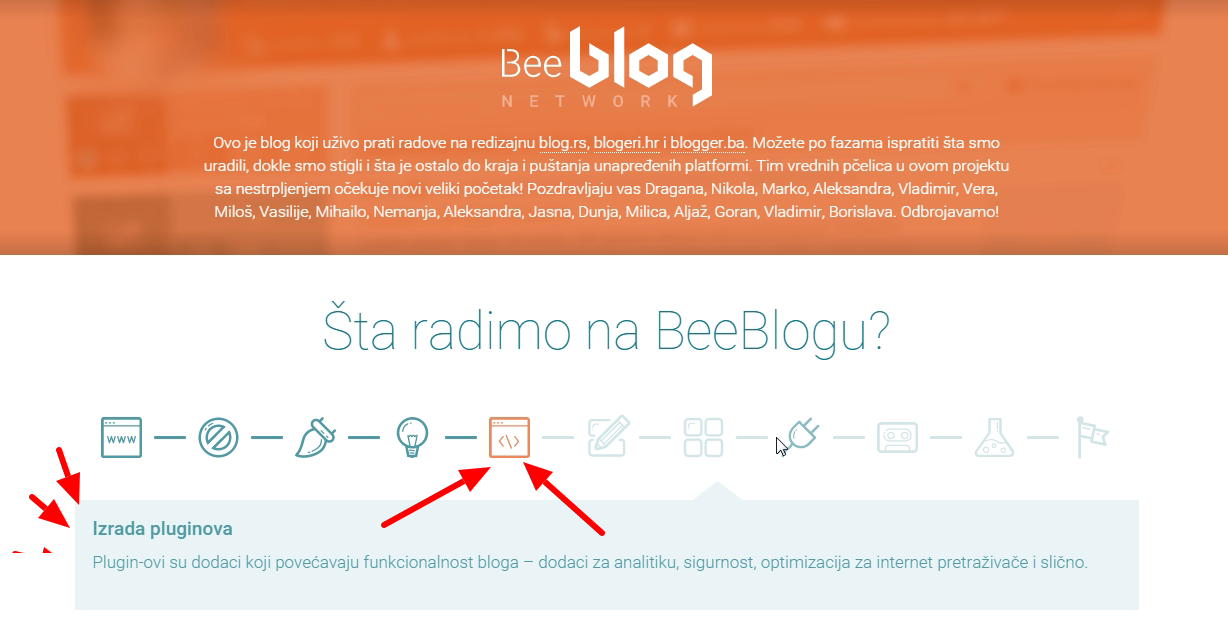 – strelice pokazuju koja je aktivnost trenutno u radu…(a ako predjete mišem na bilo koju ikonicu imaćete uputstvo ispod. Dovoljno je da odete na BeeBlog.network
Imate mogućnost da #live pratite redizajn tri blog platforme preko bloga BeeBlog.network
Evo svih detalja o planiranim aktivnostima:
– prebacivanje domena i sajtova 
– uklanjanje reklama
– dizajn
– provera strukture i dizajna
– konvertovanje dizajna u kod i programiranje (trenutna faza)
– dizajn i izrada novih tema za blogove
– izrada vidžeta
– irada pluginova
– prebacivanje sadržaja sa starih blog platformi
– testiranje
– postavljanje na producion server
Trenurtno na ovim zadacima su Nikola, Marko, Aleksandra, Vladimir, Vera, Miloš, Vasilije, Mihailo, Nemanja, Aleksandra, Jasna, Dunja, Milica, Aljaž, Goran, Vladimir, Borislava, na čelu sa sjajnom Draganom Djermanović.
Dragana drži reč, a  medju prvim aktivnostima bilo je uklanjanje reklama, jer su blogeri to tražili.
Interesantno je da na ova tri agregata bloguje preko 400.000 aktivnih blogera iz Bosne i Hercegovine, Srbije i Hrvatske.
Predivna vest za sve aktivne blogere i one koji će se uključiti jeste da redizajn podrazumeva kompletan vizielni deo i moćno poboljšanje u tehničkom smislu, pa će svi imati jednostavne admin panele u kojima će bez problema moći da ubacuju sadržaj po želji.
Svaki bloger će biti vlasnik svog bloga i moći će da ga kreira onako kako on zamisli, želi, može. Neće biti nametanja bilo koje vrste, naprotiv, uklanjaju se reklame koje su do sada bile i koje su iritirale mnoge blogere.
BeeBlog je napravljen da preko njega komuniciramo i podelimo sve ono što nas muči, ili jednostvano da se pohvalimo.
Medju prvima sam ja to uradio, a evo kako izgleda: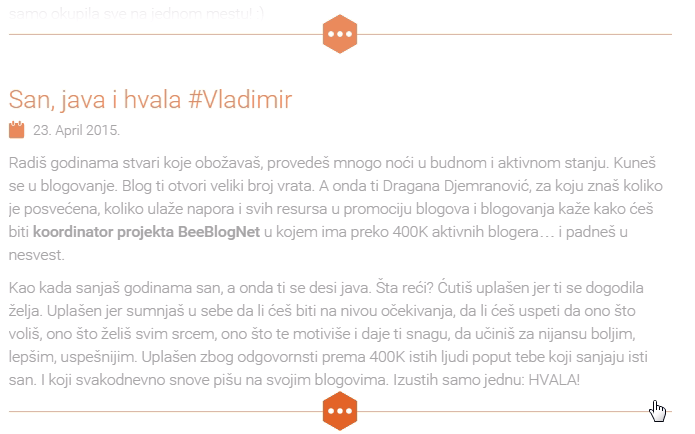 Pozivam sve koji žele da bloguju da se priključe, a vas aktivne blogere, it programere, dizajnere i stručnjake svih afiniteta i zanimanja da date svoj sud ili kritiku kada sve bude skockano. Siguran sam da svojim interesovanjem možete doprineti da budemo bolji, lepši, kvalitetniji!
Hvala svim blogerima sa agragata blog.rs, blogger.ba i blogeri.hr na strpljenju i lojalnosti.
Posebno hvala predivnim ljudima na velikom trudu a najviše Dragani Djermanović na konkretnim potezima, poverenju!
Pišemo se, pratimo se, blogujemo svi!!!
#ljubav, muzika i sve nešto lepo…