Tekst i baneri preuzeti sa bloga Dragane Djermanović.
U našem regionu postoji blizu 1.000.000 blogova. Svakoga dana objavi se na hiljade blog postova, a blogeri pišu o kulinarstvu, fitnesu i zdravom životu, lepoti i modi, biznisu i menadžmentu, IT-u… Gotovo da ne postoji tema koja na blogovima nije obrađena, a uglovi gledišta čak i na istu temu jedinstveni su koliko i sami blogeri koji predano i posvećeno pišu, za svoju dušu i za sve nas ljubitelje blogova.
Međutim nameće se pitanje koliko uopšte verujemo blogerima? Koliko verujemo u njihovu pisanu reč, šta ako u nju ne verujemo i šta je uopšte presudno da bismo preporuku ili savet na blogu uzeli u razmatranje?

Onda, da li kao čitaoci blogova isto tretiramo postove u kojima se preporučuje da nešto koristimo / uradimo i da nešto ne koristimo / ne uradimo.
Ovo su neka od pitanja kojima se bavim u svojoj doktorskoj disertaciji, a nakon uspešno završene serije intervjua sa najpopularnijim blogerima pokrećem istraživanje namenjeno čitaocima blogova – da saznamo kako se gradi kredibilitet i šta na njega utiče.
Ukoliko čitate blogove – bez obzira na to da li su na domaćem ili stranom jeziku i kojom se temom bave, molim vas da izdvojite 5 minuta i popunite ovo potpuno anonimno istraživanje. Rezultate i zaključke ću, kao i obično, rado podeliti sa svima. Vaša reč mi je veoma bitna!
Hvala vam.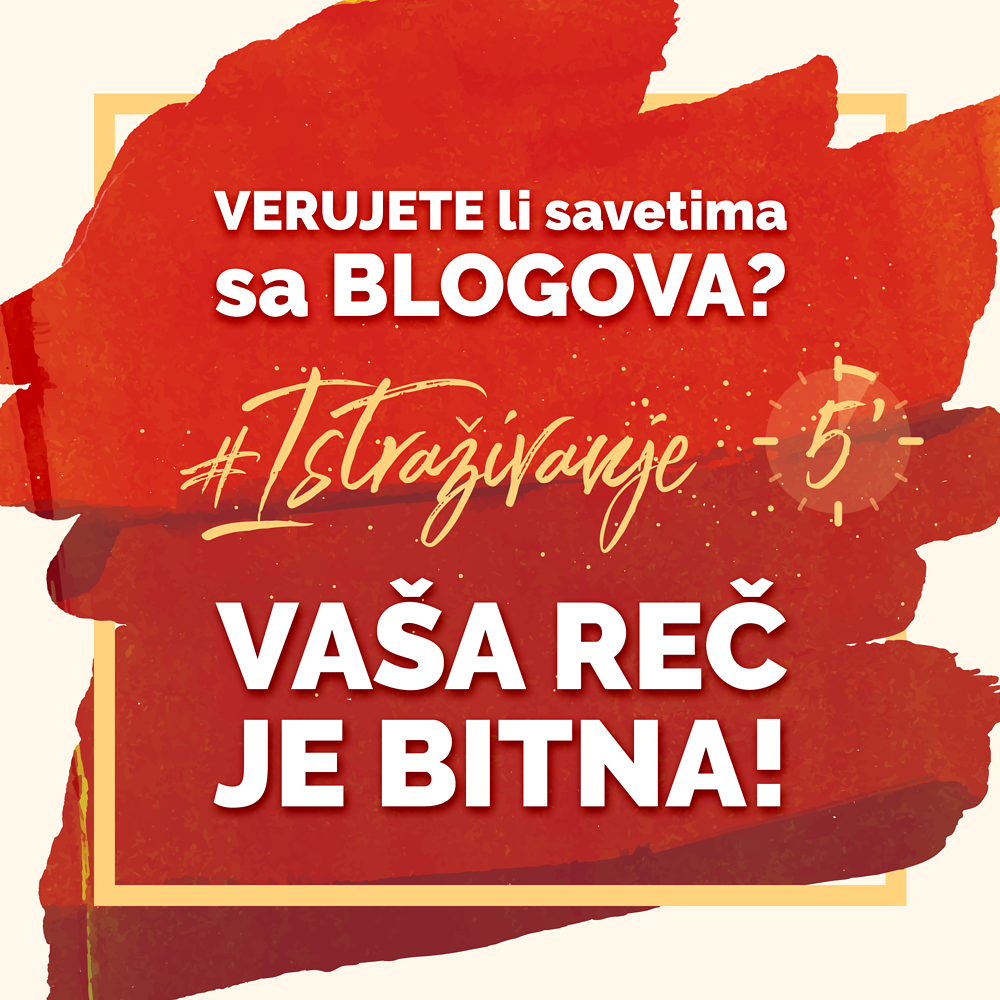 Share the post "Verujete li savetima sa blogova? – ISTRAŽIVANJE"