Zaradite prvi milion, pretvorite razmišljanje u rezultate.
"If you didn't earn at least million this year, and your personal life didn't advance in the measure you wanted in the last 12 months, than this is the most important seminar you will attend!"
Prvi milion? Zvuči nedostižno? Verovatno, mnogima od nas, ali nije. Potrebno je, pre svega, da verujete u sebe i spoznate svoje potencijale, što nije uvek lako.
Razmišljamo i radimo u sadašnjosti, jer ne znamo šta nas čeka u budućnosti a ne možemo da utičemo na prošlost.
Učaureni u svakodnevni život, pritisnuti finansijskim, porodičnim, zdravstvenim i raznim drugim problemima, često zaboravimo ko smo i o čemu smo, kao mladi, sanjali. Prepustimo se sumornoj rutini i dozvolimo joj da ovlada, sve više sumnjajući da išta možemo da promenimo. A možemo. Prvo sebe.
Čovek koji je u tome pomogao milionima ljudi širom sveta, majstor i učitelj Zakona Privlačenja, Bob Proktor, svakako je neko čije savete treba da čujete.
Autor najprodavanije knjige "Rođeni ste bogati" već skoro pola veka bavi se, veoma uspešno, razvojem mentalnih potencijala ljudi.
Mnogi od nas ih nisu svesni. Sredina u kojoj odrastamo, rođaci, prijatelji, komšije, svi"dobronamerni" koji na svaki naš pokušaj da odskočimo imaju spremne komentare kojima nas ukopaju, vremenom nam razviju kočnice i blokiraju svaku pomisao da smo drugačiji, sposobniji, spremniji od njih.
I tako prođe život.
Seminar "Od razmišljanja do rezultata" prilika je da naučite da promenite stvari.
Pre svega, da izađete iz okvira, promenite način razmišljanja, pogledate u sebe i počnete ponovo da verujete. Da verujete da možete. Šta god hoćete.
Upravljati vremenom je nemoguće, ali naučiti upravljati aktivnostima i biti produktivan, a onda i uspešan, svako od nas može. Ono što naučimo ili akumuliramo kroz svakodnevno prikupljene infomacije, pripada intelektualnoj strani naše ličnosti, a o drugom delu, koji kontroliše naše ponašanje, a ponašanje je to koje stvara rezultate – govoriće Bob Proctor na seminaru u Beogradu. Razlika između inteligentnih i uspešnih ljudi je ogromna, baš kao i razlika između edukacije i motivacije.
Radeći poslednjih 55 godina upravo na ovim razlikama, unapredio je veliki broj kompanija, među kojima su Prudential osiguranje, Procter and Gamble, Metropolitan životno osiguranje, Royal Doulton, United State Steel, General Motors, Malaysia Airlines, AT&T, Verzion, American Express. O pojedincima je izlišno i govoriti, preveliki je broj.
Budite i vi jedan od njih, dođite na seminar "Od razmišljanja do rezultata" 05. novembra 2016. godine, u Sava Centar. Interesovanje je ogromno već sada i traži se karta više. Rezervaciju možete izvršiti preko Eventim servisa ili direktno preko sajta Boba Proctora ovde, a postoji mogućnost da dobijete i popust na opšte i premium karte (maksimalno tri (3) karte preko Dedabor bloga), ukoliko u komentarima ispod teksta napišete na koji način vi vidite razliku između inteligentnih i uspešnih ljudi, ili ono što vi vidite kao motivaciono sredstvo za uspeh. Imajte na umu da je za nekoga uspeh povećanje prodaje, za neke druge smanjenje kilaže, za treće završetak formalnog školovanja…
Organizator ovog jedinstvenog predavanja u Srbiji je EDUCOM, čiji je slogan "Daj i uzmi", a koji se prevashodno bavi edukacijom. Educom Vam nudi niz seminara, kurseva i edukacija na teme koje obuhvataju moderan i primenjiv način funkcionisanja, a ovom prilikom i seminar sa predavačem i temom koji nam mogu promeniti život!
Do 3. oktobra moguće je kupiti karte na rate.
Odvojite svoje vreme, samo jedan dan, 05.11.2016. jer ćemo imati jedinstvenu priliku da čujemo ono što nam može pomoći da naučimo da razmišljamo o sadašnjosti, jer ne znamo šta nas čeka u budućnosti a ne možemo da utičemo na prošlost.

Vidimo se!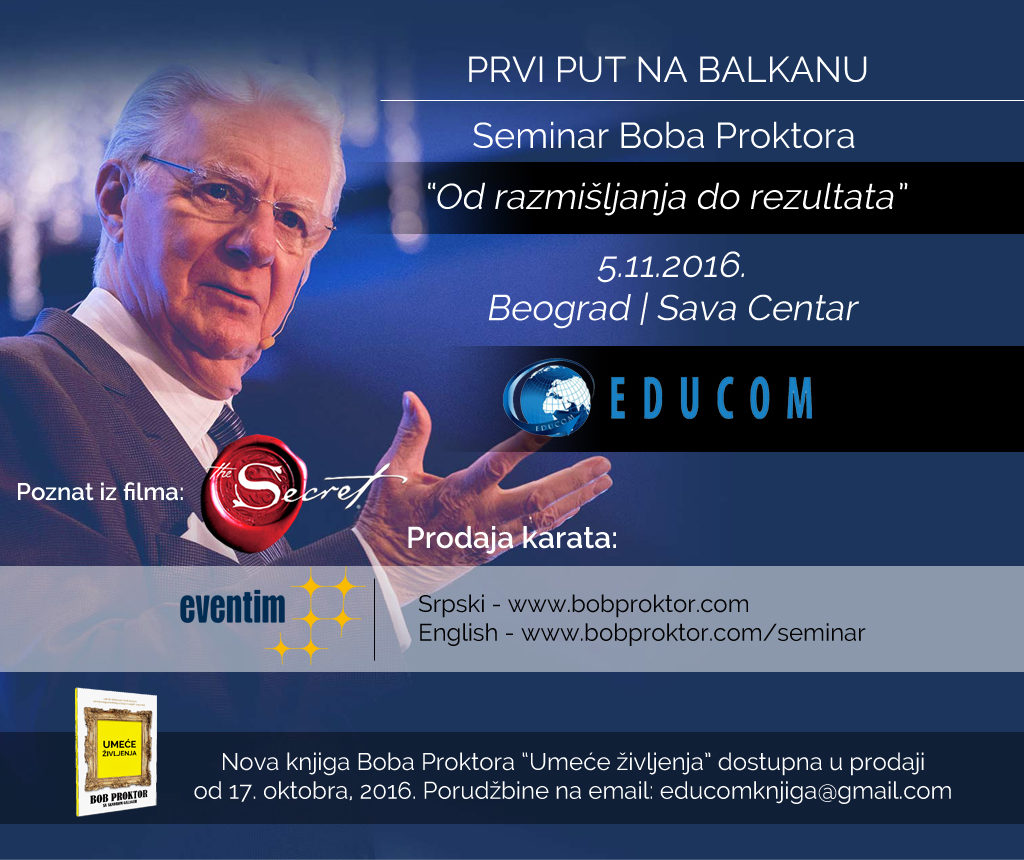 Zaradite prvi milion, pretvorite razmišljanje u rezultate.