predhodni deo priče, klikni na link…
English teachers are sexy
Pornhub, xxx, free porn movies, ali kao što sam i Nedi rekla, svi mi imamo fantazije, pa i Miloš nije bio izuzetak. Malo bolje sam pogledala podnaslove: Hot English teacher; Naughty English teacher; English teachers are sexy… Nije mi ništa bilo neobično sve dok se ispod tih porno linkova nije pojavilo nešto vrlo zanimljivo-veliko slovo F, fejsbukov logo i odmah zatim Jelena Kostić. Zatim nekoliko odgledanih slika na fejsu, pa opet pornići s nastavnicama. Vreme gledanja- sinoć u 2 sata ujutru.  U trenutku sam utrnula. Jedva sam vukla skrol dugme na mišu, a pred mojim očima su se nizale iste stvari. Gledala sam datume, skoro svako vece oko jedan-dva posle ponoći. Falili su samo oni datumi kad je Miloš spavao kod mene ili smo bili u gradu do ujutru. Onako zatečena prisetila sam se jedne večeri pre nekih tri meseca kada mi je Miloš sav razdragan došao iz restorana i upitao: "Znaš koga sam služio posle 5 godina? Jelenu Kostić", cerio se od uha do uha.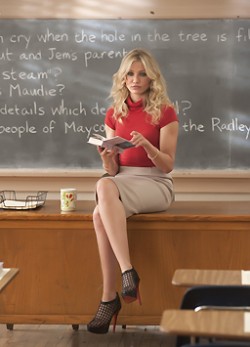 "Onu tvoju nastavnicu što te je odbila pre pet godina, pa si patio šest meseci dok ja nisam naišla da ti vratim nadu u život?", presekla sam ga u trenutku. Osmeh mu se skupio u sekundi.
"Da, nju."
"I kako izgleda sad? Je l' su ti drhtale ruke dok si joj nosio piće?", okrenula sam na šalu videvši da se smrkao posle moje hladne opaske.
"Ma daj, prošlo je puno vremena, nisam više balavac da mi drhte ruke, ali bilo mi je nekako čudno da je vidim uživo posle toliko godina."
"Uživo, kako to misliš, kao da si je gledao u mislima inače, ili na televiziji možda, pa ti je bilo čudno da je vidiš uživo?"
"Nisam tako mislio, nema veze, nije ona niko bitan da bismo mi oko toga sad polemisali."
"U redu, ako ti tako kažeš", rekla sam hladno i smireno verujući da se tu ta priča i završila.
Samo, izgleda da je priča baš tada počela. Pogledam datum kad je počelo to internet emitovanje serije "Porno nastavnica sa licem Jelene Kostić" Nekoliko dana  posle tog susreta u restoranu!
"Čista slučajnost; Nije to što misliš; Nije tako kao što izgleda; Dramiš bez razloga; Pa to ništa ne znači" mogla sam da vrtim još hiljadu stvari koje će mi Miloš reći u svoju odbranu, ali sve je bilo jasno. Samo jedan susret bio je dovoljan da poljulja ono što smo nas dvoje gradili 4 godine. Ili sam samo ja gradila? Šta ako je Jelena sve vreme bila tu, izmedju nas, a ja je nisam primećivala?
NE, NE, NE, nema šanse…
…za nastavak kliknite ovde! –>
…slika preuzeta sa sajta Rts.rs